7 Questions with MLQ Night Rider Harry Greenhouse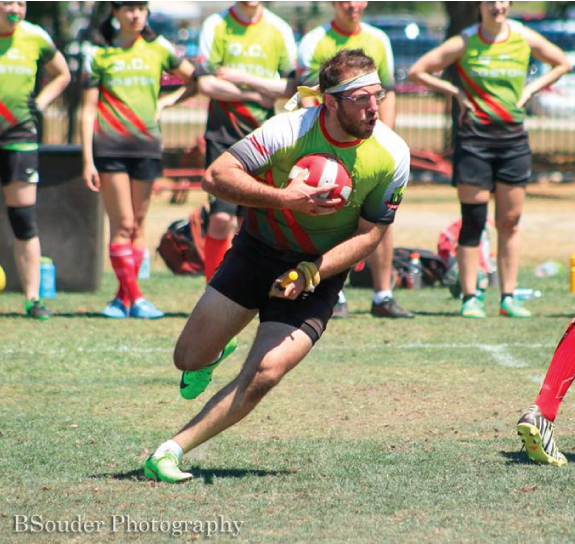 Savage is on a mission to highlight players from our sponsored teams across multiple sports. Catch this and other "7 Questions from Savage" as we take you into the minds of athletes around the world! In preparation for the MLQ Championships, we're kicking off the series with MLQ notable Harry Greenhouse (3rd from left below).
VII: Harry, tell us about yourself.
HG: I'm 24 years old and from Boston, Massachusetts. I'm the player and head coach for the Boston Night Riders. I play seeker and chaser. 
VII: You have an accomplished career as a Quidditch player. Can you tell us about your greatest accomplishments?
HG: I've been playing for six years, heading into my seventh. I've played for Team USA twice [in the IQA World Cup]. Won the US Quidditch Championship as a member of QC (Quidditch Club) Boston, and won two MLQ championships. 
VII: How did you get into Quidditch?
HG: It was mostly because I was a bored freshman. I found out from my RA that is was happening. I mean, I liked Harry Potter—I didn't love it—but, like I said, I was bored. So I went and gave it a chance. I had played football and I got tackled by a guy who was like 6'2", 220lbs. I had to stick with it. 
VII: Football, huh? Any other sports in your background? 
HG: I love all sports. I played a lot of sports growing up. My main sport was wrestling, but I also played basketball, soccer, and football... I often describe [Quidditch] in terms of other sports—it's like a combination of dodgeball, basketball, and rugby. A lot of the offense is like basketball, but the tackling is like rugby tackling. I still play a lot of sports with friends in my free time—I just finished a local rec soccer season and still play basketball, ultimate, and baseball. 
VII: What else do you do? 
HG: I'm a teacher during the day, but yeah, I like sports. 
VII: Do you have any nicknames? 
HG: Heh, yeah, so some people call me Larry Townhouse as a play on my own name. I guess I started getting a little popular in the world of Quidditch and as an alternate name, and joke on the notoriety, a player on my team started calling me Larry Townhouse. It just kind of stuck. 
VII: If you could draft your Quidditch Dream Team, who would you pick? 
HG: Definitely Lebron as my keeper. I'd probably pick all basketball guys for chasers. Probably Russell Westbrook and....Kevin Durant and Diana Taurasi. For my beaters, I'd pick baseball/softball players for the throwing. I'd go for Carlos Correa and Jennie Finch. For my seeker, Jordan Burroughs. I think wrestlers make the best seekers. 
You can catch Harry Greenhouse at the MLQ Championships this weekend, August 12-13 in League City, Texas. The Boston Night Riders are seeking their third title of this tournament as 11 other teams look to upset.