7 Questions with Chicago Union's Ross Barker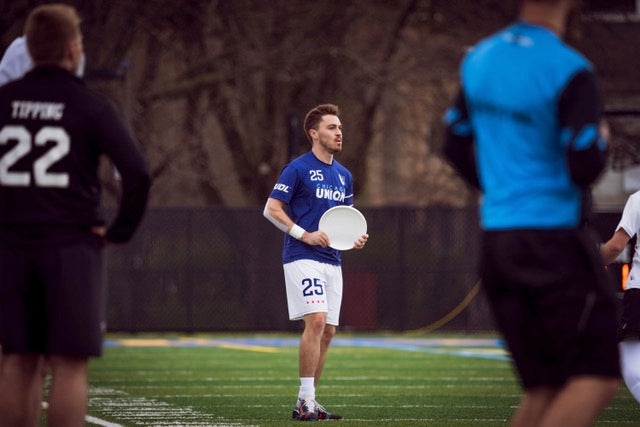 The AUDL's 2022 season may be over, but we're already looking forward to next season — and the AUDL All-Star Game in November. Today we're chatting with Chicago Union captain Ross Barker about the past season and his own path to Ultimate. Give it a read, and be sure to check out our official AUDL team store to stock up on gear before the next game.
VII: First, a bit about you. How long have you been playing ultimate? What brought you to this team specifically?
Ross Barker: I started playing ultimate when I got to college. I knew nothing about the sport before then. But I began playing for the Wisconsin Hodags in the fall of my freshman year (2012). I played with them for 5 years, and was a second-team college All-American in 2017. I also played for the U-24 USA Men's National Team and won a gold medal in the world championships in Perth, Australia in January 2018. I had moved to Chicago (Summer 2017) after graduating from Wisconsin for a job, and began my career with Chicago Union (known as the Wildfire at the time) in the summer of 2018. I was unanimously nominated as a captain after my first year on the team, and have been a captain ever since (2019-present). I came to this team when they were really bad (one of the worst teams in the league), and found the challenge of turning this team into a successful program very alluring. 
VII: So how did your season go? 
R.B.
We made it to the championship game!!! Unfortunately we lost to the New York Empire, but losing to the best team in AUDL history isn't the worst thing. I felt our season was incredible. We had a lot of moments you yearn for as an athlete: Blowout wins, game-winners, and comeback wins. It was the best season in Chicago history and that's definitely something to be proud of, especially with how this program has turned itself around in the last five years.
VII:  What do you do when you're not playing ultimate?
R.B.
I am currently a graduate student at Northwestern working on my master's degree in Prosthetics & Orthotics. I will graduate March 2023. That along with lots training, playing with my dog, visiting family and friends, and enjoying all the things Chicago has to offer are what I do outside of ultimate. Prosthetics is the mainstay though.
VII: What do you think sets your team apart from others in the 

AUDL

?
R.B.
I think we have the most fun out of every team in the
AUDL
, and we have become very competitive. We celebrate each other after a great play, and we pick each other up when we fail. I think our culture is extremely professional, and one that is continuing to improve every year.
VII:  Who are some stand-out players on your team and what makes them special?
R.B. Pawel Janas is the best center handler in the world in my opinion. He can make any throw and is consistently the focal point of other team's game plan in how to stop us, and yet he continues to be extremely effective. Nate Goff is the best defender in the world in my opinion as well. He's got the size, speed, and intelligence to make incredible plays and always be a threat on the field. Paul Arters is a world class thrower. The things that man does with a frisbee will make even someone who doesn't know the sport drop their jaw. I believe I'm a standout as well due to my intelligence, speed, and receiving skill for our offense, but I don't particularly like gloating.
VII: What's your favorite team to play against and why?
R.B.
I don't know that I necessarily have a favorite team to play against if I'm being honest. Playing at Madison is great because the atmosphere, fan engagement, and field is the best in the
AUDL
. I also played with a lot of those guys when I lived in Madison.
VII: How does your team prep for a game? 
R.B. We have practice once a week, and a scouting report for every team we play against. We look at our opponents' tendencies and strengths and weaknesses and game plan as best we can to counter that to give us an advantage to win. The foundation is competing and going all our regardless of the result.