We Put Our Neckies to the Test! Here's how our Greenline fabric stacks up against the competition.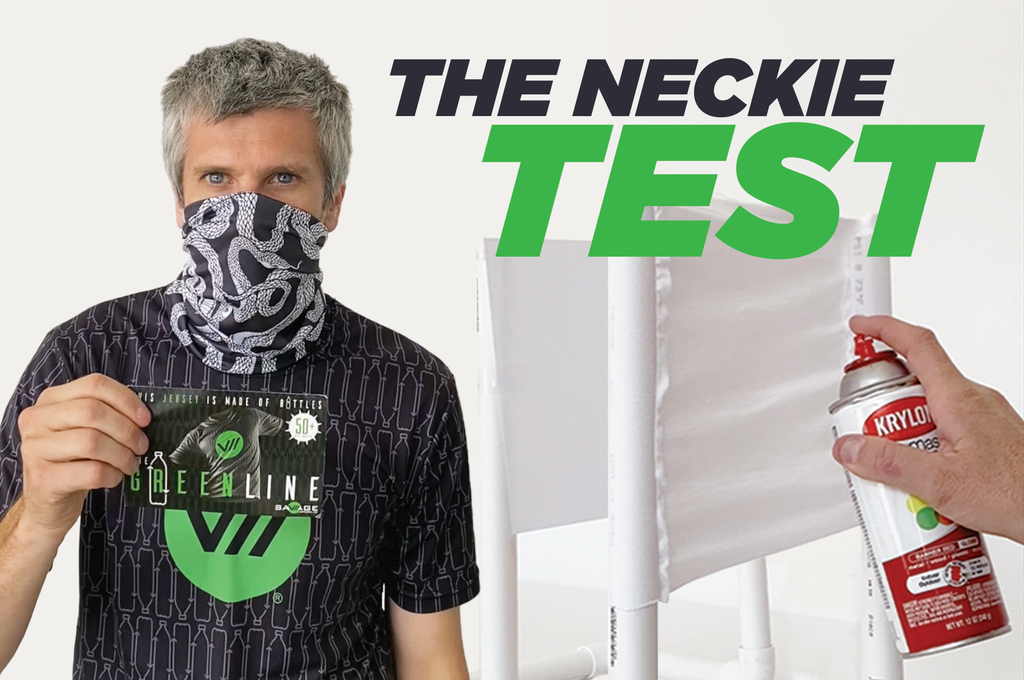 Recently, we received a lot of inquiries regarding the effectiveness of our neckies. An article in the Washington Post regarding a recent Duke University study suggested that neck gaiters were not effective protection and might actually be worse than no face covering at all. Of course, as neckies are one of our most popular items, this article raised many concerns internally. 

Luckily, some esteemed publications like the NY Times and Science News came out quickly with their own articles explaining that the study wasn't conclusive and even the study's authors explained that not all neckies are made the same.
Our neckies are made with our own unique Greenline fabric, made from 100% recycled plastic bottles and treated with a Silvadur antimicrobial wash. We've always been super confident in the quality of our products and our neckies are no exception. Confidence alone wasn't enough though, we needed more proof.

We decided to conduct our own experiments and put our neckies to the test.
First, we performed Bill Nye's candle test using our neckie. We got results that the Science Guy would surely approve of and were unable to blow out the candle! This was fantastic news, but we wanted to go even further. A local scientist recommended we do another test, simulating the spray of droplets through fabric by spraying red spray paint through our neckie at a range of distances to test its effectiveness as a barrier. We took one of our Savage neckies made from our Greenline fabric and performed this spray paint test side by side with a competitor's neckie, a cotton/poly blend t-shirt material, and no mask or covering at all as the control. 
Here are the results of that test:
As you can see, not all neckies are created equal. Our Savage brand neckies made from our unique Greenline fabric did a far better job at blocking the paint droplets than others out on the market. Our Greenline fabric was also more effective than the cotton/poly blend fabric and clearly a far better option than no mask or neckie at all. We hope these tests help put our customers at ease and restore confidence in our Greenline fabric. And for even more protection, check out our bandanas that are made from two layers of Greenline fabric. 
Watch the video below to see both tests performed and the full results. 
Ready to get your custom neckies for your team, company, or organization? Head on over to our custom neckie page to get started.