7 Questions with the AUDL Dallas Legion's Kevin Richardson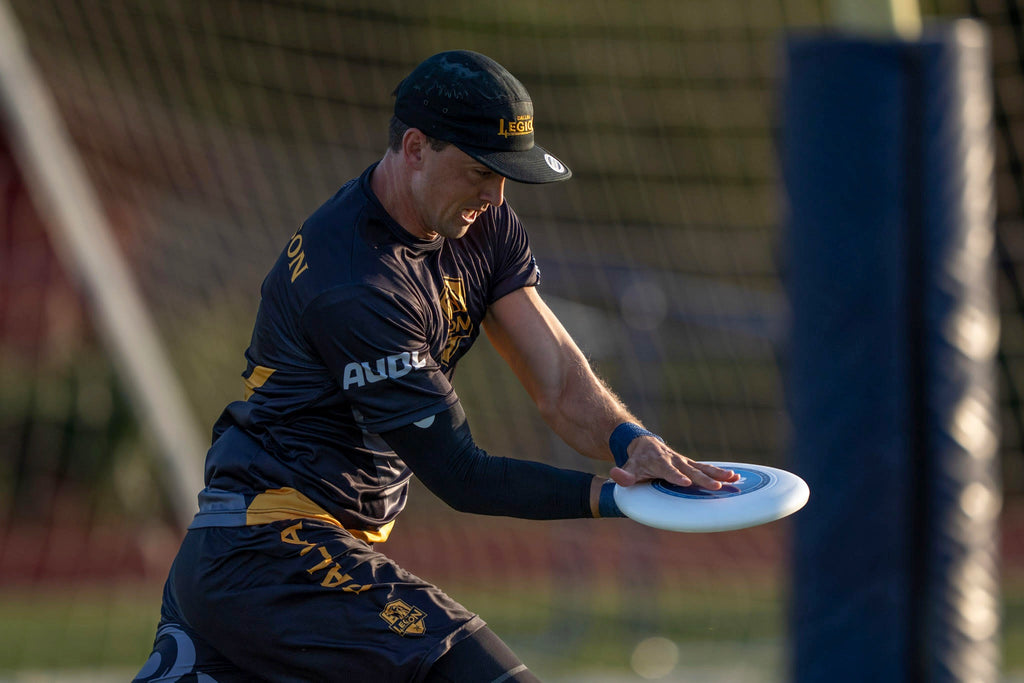 It's AUDL Season, and we at VII Apparel Co. are proud to be outfitting some of Ultimate's greatest players. To celebrate the season, we're interviewing ambassadors from some of our favorite teams. First up: We're chatting with Kevin Richardson of Dallas Legion. Be sure to get your Dallas Legion fan gear — including replica jerseys, shorts, and socks — on the official VII AUDL Fan Shop. Take it away, Kevin!
VII: First, a bit about you. How long have you been playing ultimate? What brought you to this team specifically? 
Kevin Richardson: I have been playing since 2004, my freshman year in college at The University of North Texas. I have lived in the DFW market my entire life and after playing club in Texas for many years I joined the Dallas Roughnecks (now Legion) in 2018. 
VII: What do you do when you're not playing ultimate? 
KR: My wife and I own a personal training business and real estate business. We love being outdoors and spend most of our free time traveling, competing in races and events or just taking our dogs for a trip anywhere we can go.
VII: What do you think sets your team apart from others in the AUDL?
KR: Dallas Legion has a lot of experience in the AUDL with our veteran teammates, and I think as a season progresses, teams rely on experience a lot. We have some new, hungry athletes in the DFW area and mixing these two groups together gives us a very talented 20-man roster on game day. 
VII: Who are some stand-out players on your team and what makes them special? 
KR: Matt Bennett has been an AUDL stand-out for many years, and his defensive running-mate Ben Lewis has the ability to get breaks at any time on defense. I think Brandon Malecek and Jimmy Zuraw create a really unique handler duo capable of unlocking the entire field for our receivers. Jimmy's lefty throws can break the mark anywhere on the field and Brandon historically has been one of the best long-ball throwers in the league. Lastly, I'll point out rookie Alec Wilson Holliday. One of the fastest players on any field and is hungry to take the best matchups on defense.
VII: What's your favorite team to play against and why? 
KR: Easy answer — Raleigh or Carolina Flyers. I respect the heck out of Mike DeNardis and his team over in Carolina. They play the right way and in 2021 it was great seeing them raise the trophy finally! They develop athletes and players better than any other team in the AUDL and I am so happy I get to play them again this year. 
VII: How does your team prep for a game? 
KR: Our Slack channel is usually pretty busy the week of. Early in the week we are getting in our track workouts and throwing workouts, hydrating and eating our best. Thursday night we have a throwing/drills practice and have a talk about the weekend's matchups and goals. Friday we recover, get our gallon of water, watch film on our matchups and get some rest. Game Day is different for everyone, but I try to get the team up and on their feet early and break a sweat. 5p arrival and 5:30p throws on the field, 6p stretch, mobilize, ramp up. 6:30p full speed drills, 6:50p 7 on 7, 7p Game Time. 
VII: What are your hopes and dreams for the 2022 AUDL season? 
KR: Win some games! We are in a tough division — five games against a talented Austin team, two versus Atlanta and Raleigh plus Minnesota. It's a tough schedule. I'd like to steal some games from those three South teams and put us in the conversation of taking that final playoff spot!