How to Survive Running in the Mountains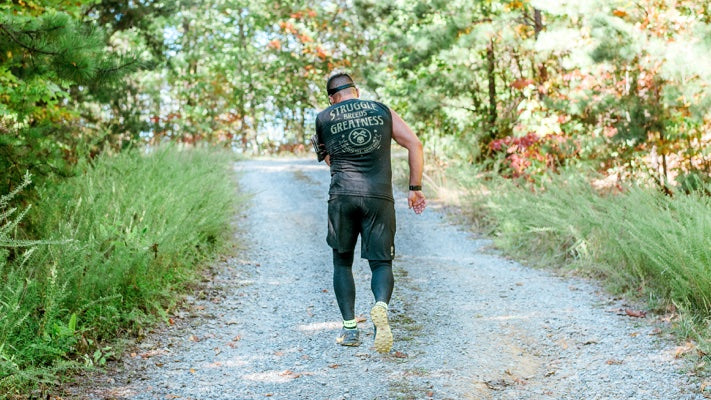 We're a fan of any fun activity that takes us off the beaten path, and it's hard to think of anything that takes that concept more literally than the App(ugh)lachian Race Series. Savage is a proud sponsor of this wild event, scheduled for April 27-29 in the mountains of Virginia and Tennessee. 
One thing that makes this race unique is that the actual course will be a surprise to participants. "We believe there's only so much of a challenge, or an experience, that can be had from running a 5k that you can drive the route of beforehand, or doing an obstacle race with obstacles you know about, or riding a Strava bike segment over and over again to get the best time," according to organizers. 
Sign up here, then read our Q&A with race director Adam Parks, who has some words of wisdom about stayin' alive while running through the mountains.
Savage: How does running in the mountains differ from running elsewhere? What do you like about it? 
Adam Parks: Running in the mountains, for me, is the purest form of running there is and is the greatest escape from the "human world" that I know of. I call it the purest because you're always running in nature, and, with running in the mountains in particular, you get a chance to have a little bit of everything: seasons, terrain, flora, fauna, etc. What I would say most people recognize about what makes running in the mountains different though, is that it comes with the obvious difficulty of the terrain, running uphill, and running at altitude. For me, that, along with just being in woods, is why I prefer running in the mountains over running anywhere else.
I realize a lot of people would prefer easier, not harder, but when you run in the mountains you're much more capable of running anywhere else, rather than vice versa. The terrain has prepared you to do so. That's why I love it. I love it when I enter a race in a city, or somewhere outside of the mountains, and I hear people stressing about some hill (something I might consider a slight incline) in the race, because I know it won't be an issue. I suppose it's a sense of pride, a mental lift, to know that the mountains have made me stronger. And that's also what I love about running in the mountains, is that, I don't have to go out and push myself incredibly hard to make sure I get a hard run in, I just let the mountains push me. There's always a bigger mountain to climb. 
Savage: How do you train for the race? Do you have any pre-race rituals?
A.P.: Well, the beauty of the races in the App(ugh)lachian Race Series is that you don't know exactly what to train for. We only give you just a little bit of info beforehand to ensure that you are aptly challenged in the races. We will let you know how far you have to go, but you won't know where. And, around here, the where makes a BIG difference.
I usually just tell people to run a lot of hills. I want it to be up to the individual to prepare themselves for anything (or not), because there's not really anything too impressive about running a 5k that you can practice on year after year. I want my races to be more closely related to life and the strength that comes through venturing into the unknown, or overcoming obstacles that you may not have expected beforehand. I want to test your grit, because that's what we have in the mountains: grit.
As for my pre-race rituals, I always like to take 2-3 really good poops before a race. Just gonna be honest. Number one, it helps ensure I don't have to poop while running, which is important, but I also feel much lighter and faster doing so. Aside from that, I usually eat an orange, a Clif bar, maybe something else, and I drink a lot of water. 
Savage: What do you wear when you're running in the mountains?
A.P.: It really just depends on the season. A lot of times I'll have to layer up because it's a big difference in temps based on the elevation and how open the trail is. I like to have zip-ups for that reason so I can adjust either way, and I prefer natural fabrics that breathe well because I sweat a lot regardless of the season. Other than that, I always run in minimalist shoes because I prefer the feel and I'm more conscious of my stride and foot placement when I do. I might add a pair of socks if the trail is pretty rough.
I've also learned that it's a good idea to wear something long legged if you're on a trail you're unfamiliar with because briars, stinging nettles, and other things can suck hard.
Savage: What's the best way to recover from a mountain run?
A.P.: Running in the mountains is much harder, and you'll burn more calories, than a similar flat distance. Therefore, recovery is really important and prepping for your run, or having stuff after the run is equally important. As for myself, I've just learned to listen to my body and sort through the cravings to figure out what I need. Water and electrolytes are essential first, and then I like to usually get in something high in quality fats and protein; or, just eat a whole pizza. Depends.
Savage: Where are some of your favorite places to run in the mountains? 
A.P.: Anywhere new. I love seeing new places and being in new surroundings. I also just really enjoy anything that's challenging and that tests my grit and the shape I'm in. My favorite places to run, without giving away any race locations, are the trails at Steele Creek Park by my house in Bristol, TN, the plethora of ones around Damascus, VA (Appalachian Trail, Creeper Trail, Iron Mountain Trail, and Grayson Highlands State Park), and the ones connecting to Hidden Valley Lake outside of Abingdon, VA. We are blessed to have access to an immense amount of trails here and a variety of natural beauty to take in on them.