Order Custom Jerseys from Savage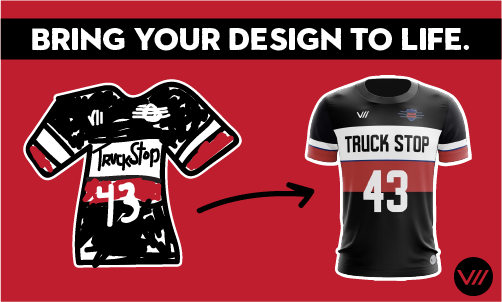 Ordering new jerseys for your team can be an intimidating prospect, especially if you've never done it before. These are the basics for ordering jerseys and gear at Savage. 
What To Send Us
Your team and sport

Approximate quantity

Items you're thinking of ordering and deals you want to use if applicable

Art ideas/assets or a design

The best format to send art is in vector form, but we can work with other file formats as long as the quality is good. 

You get 3 hours of free art with Savage, so if you don't have art ready we can create something for you.
What Kind Of Printing/Products Are Available? 
Refer to our Printing Guide for customization options. We have tons of custom options available and we'll work with you to the best of our ability to get everything you need. You can check out our Team Marketplaces to figure out what you want and how many options you have. 
How Much Will It Cost?
Our sales reps will work with you to get you the best prices possible for your team. Our deals for sports teams are right on this page and Ultimate deals are featured here. 
When Can I Expect My Order?
Refer to this blog post. It details the estimated timeline based on what you provide us and what you've already done.
Base production times start after your order is approved (by you) and paid for. 4 weeks for spot subs and screen prints, and 6 weeks for fully sublimated gear. 
Ideas For Jersey Designs
Our artists can really help you out, but another place to get great ideas is our Team Marketplace, which has tons of sweet custom designs created by our artists. 
What's Team Marketplace? Why Should My Team Use It? 
The Team Marketplace will save you the headache of using spreadsheets to organize sizes, numbers and collecting payments. Team Marketplace allows you to get your gear in our online store, and we'll collect payments, sizes, and numbers for you. Since your gear is in our store you can also get it to fans, alumni, and even random folks who think your gear is awesome. You'll get a credit for each of these sales. 
If you need your order rushed, Team Marketplace is probably not for you. Team Marketplaces are open for 10 days and almost always have 8-12 items. One way to meet that is choosing a screen printed design which can be used on all sorts of gear for your team; sweatshirts, reversibles, long sleeves, tees and more. Check out all the Team Marketplaces powered by Savage.
I Need My Gear ASAP
Rush production and shipping are available for many orders at an additional cost. Here's what you need to give us to make get your order as fast as possible.
All artwork in editable format 

A clear and distinct idea of uniforms

OR have a complete design ready

Know what type of printing you want to use

Know the type of gear they want to order

Have all team order information ready

In most cases, artwork and invoice can all be provided within 1-3 days. 
There you have it! As always, email sales@savageultimate.com to get your order started.