Our Experience at the Festy Experience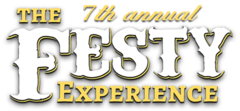 And, it was an experience indeed! SAVAGE was proud to be an apparel partner and vendor at
the Festy Experience
in Arrington, Virginia this past weekend. 
We made some sweet Festy brand gear (hope you didn't miss out!), we sold some of our own gear, and we hosted an activity and game zone where people could come enjoy some additional fun during their festival weekend.  Of course,we threw the disc around and played some Kan Jam and Yardies. We also enjoyed hosting Spikeball games and chucking the ol' beanbag in some cornhole.
Check out Chris Pandolfi  from the
Infamous Stringdusters
and his homies gettin' down with some Spikeball and earning his very own set for his enthusiasm and awesomeness!
We had several other passionate players who deserved sets, and they got 'em by entering our giveaway!
You could feel the positivity despite being hit by rain the first two days as festival-goers enjoyed world-class music, local craft food, and beer from Oskar Blues Brewing. Nothing could slow down friends and family from sharing all of this excitement (not even a fire...ok maybe it slowed things down for a couple hours, but right back on track afterwards).