Black Friday, Cyber Monday, & More!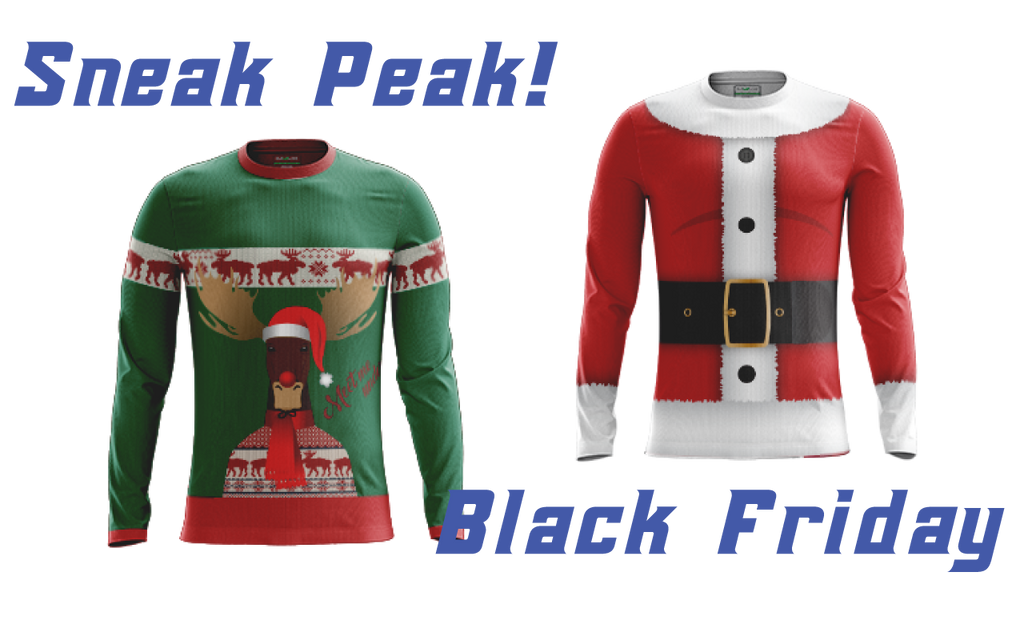 It's that time of year again! If you've been waiting for those bargains, ready to bust down those doors and grab those steals from your favorite retailers, the famed weekend of sales is finally upon us. 
We're dropping prices on almost all of our online catalog, and we've got special promotions planned for each day. Get free shipping, free gear, free gift certificates, and even spread a little extra holiday cheer! 
Check out our schedule of promotions to see what freebies you can score. Below you'll see a little additional information on these special deals. 
Get started at the stroke of midnight. We start late Thursday night with Doorbuster free shipping (available on domestic orders only). Be the first to snag that sweet sublimation "Ugly Sweater" Jersey and get free shipping on all orders until 9AM Friday morning! And we'll throw in a free "Mystery hat" with any purchase over $49 all day. 
Saturday we keep rolling out the free gear, and all purchases will get a complimentary SAVAGE cinch sack. It's a bag to put all of your awesome stuff in! (And it's free!)
On Sunday we pay forward additional savings. Buy $15 worth of great swag and get another coupon for 15% off a future order emailed to you. Save now, save later, keep saving! 
We're not done giving you free money, as we'll continue to hand out additional gift cards on Sunday. When you spend $50 or more, we'll email you a $10 gift card to use on a future purchase. If you break that $100 mark, we'll email you a $25 gift card to use on a future purchase! Buy some gifts, get some sweet swag for yourself! 
Speaking of giving and receiving. We're extending our promotions through Tuesday this year! On Tuesday, we're running Buy One Give Twosday. When you buy a SAVAGE Ultimate Jersey, we'll send you a duplicate second at no additional charge. We'll also donate one to a local charity! Buy a gift, get a second for yourself, donate a third - it's the full holiday cycle with just one click!