Tori Farlow is blazing trails for pro female Spikeball players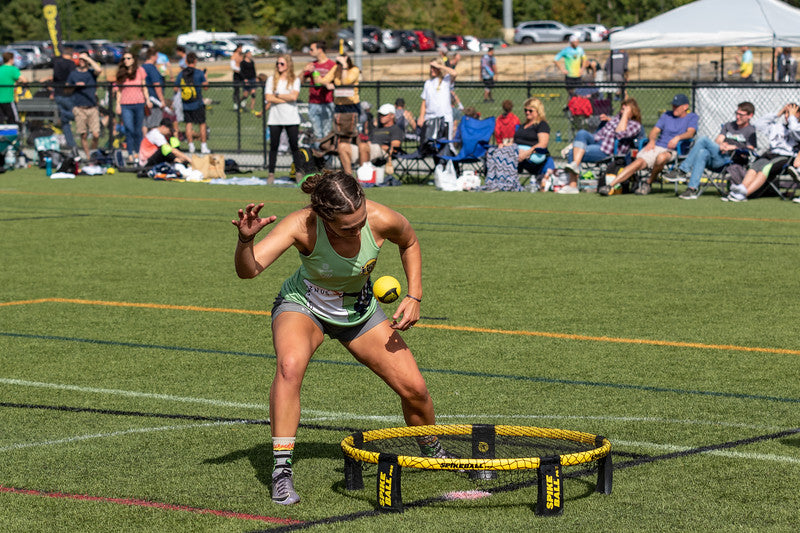 In honor of National Girls and Women in Sports Day on Feb. 5, Savage is highlighting some of our favorite female athletes [like Ultimate player Jenny Fey] in some of our favorite sports throughout the week.
Today we're talking with pro Spikeball player Tori Farlow of High Point, N.C. She started playing as a student at UNC Wilmington, where she graduated with a degree in Exercise Science. When she's not dominating tournaments with her partner Olivia Jenkins as team Boboddy, Tori works as a personal trainer and soccer coach. Take it away, Tori.
Savage: How did you get into playing Spikeball?
Tori Farlow: I first saw Spikeball back in 2016 on my college campus. As someone who is highly competitive and has a passion for sports, I immediately felt the need to play. So, my friend group and I started playing and then created a club on campus as well as held our very first tournament. After discovering that there were nationally sanctioned tournaments we decided to use them as a fun way to hang out with friends on the weekends, but I never thought it would become such a large part of my current life.
My partner at the time was my friend Charissa Wright (Veinte Hamburguesas) and we had never played another women's team until we went to nationals in D.C. and played in the women's division. We surprisingly came in third place and quickly realized it was something that we were fairly good at and wanted to pursue.
Due to personal reasons, after the 2017 season together Charissa resigned from playing and I played one year with Jordi Vigna (Razzmatazz) and now starting my second season with Olivia Jenkins as team Boboddy for the 2020 Roundnet season. We are excited to compete at the top level and to hopefully be a part of the first teams to ever go to a Spikeball World Championship in Belgium.
Savage: What's unique about being a female Spikebal player?
TF: The unique thing about being a woman in Roundnet is that we are the elite of the few so it also means that we get the opportunity to be the original trailblazers of the sport. We get to put our view on rules as well as discuss new ones, and when you really think about it, we are shaping the new way and style of how people will play in the future.
Something about being a female playing Roundnet is that since we are so hard to come by it can sadly be difficult to create a women's division at every tournament, but this also creates a fun opportunity. When there aren't enough teams to create a women's division at a tournament, we just play in advanced with a ton of talented men, which allows Olivia and I to do one of our favorite things: beat guys at a sport.
Savage: What's the hardest part about being a woman in Spikeball?
TF: The biggest challenge that we come up against is just finding athletic women who are also willing to travel.
Savage: Do you have any ideas for bringing more women to the sport?
TF: There have been many suggestions on how to grow the women's side of the sport, and realistically I don't think it will ever become equal to the number of men that play — which for me isn't necessarily a bad thing, it's just how it is and it's something to embrace. I think a better way to get more women involved is just raising the awareness of the game in a sports environment. I think introducing roundnet in colleges with intramurals or clubs and using it in high schools as a way to warm up for a different sport will yield more results for participants because these women will be athletes who are more likely to understand and enjoy it rather than introducing it to women who don't have an athletic background.
Savage: What are your hopes for the future of Spikeball?
TF: I would love to see the sport continue to grow, but for that to happen I think there needs to be a couple of changes to the game to make it more of a spectator sport. I don't think any sport flourishes without viewers. Right now, elite roundnet is almost so impressive that it isn't fun to watch. There are minimal rallies and less room to see the big, fun athletic plays that people love to watch. The game has been so perfected at the top level, especially for men, that the game has been extremely shortened.
Savage: Who are some of your favorite female Spikeball players? 
TF: My favorite females in the sport include my awesome partner Olivia Jenkins, my friend Jordi Vigna, and the beast of a beauty Sarah Zook. These women are some of the most athletic girls I have ever met and have such great hearts.
Psst: Be sure to check out Savage's Women's Mystery Sale, running this week only. Also peep Savage's Spikeball Showcase featuring replica Spikeball jerseys and fan jerseys here.