Ultimate all-star Jenny Fey wants more inclusivity in the sport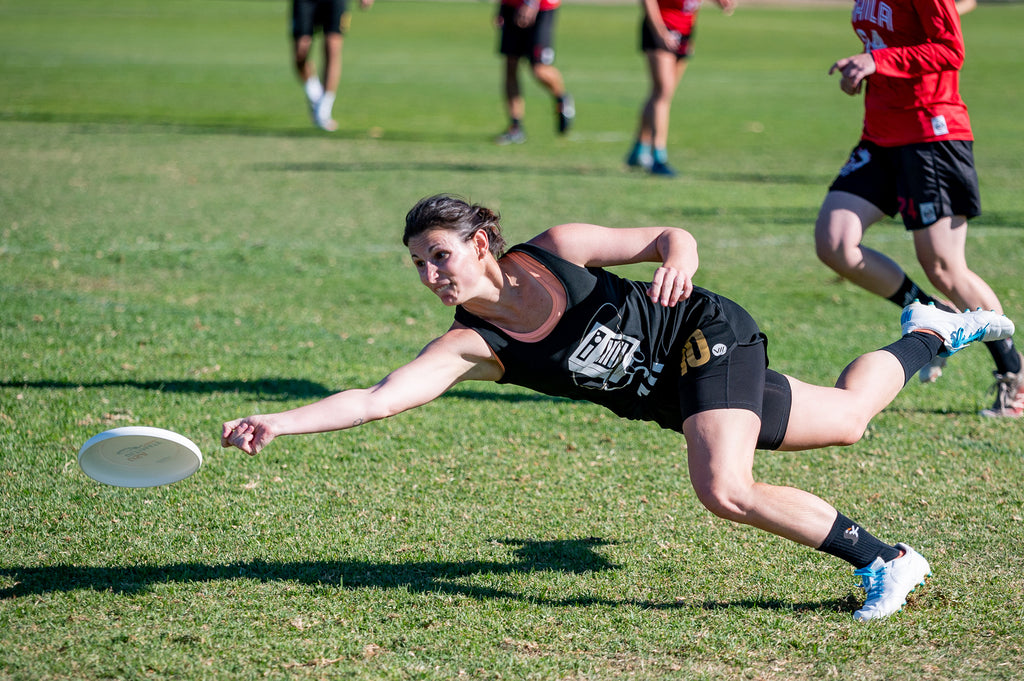 In honor of National Girls and Women in Sports Day on Feb. 5, Savage is highlighting some of our favorite female athletes in some of our favorite sports throughout the week. First up: Jenny Fey, a top-tier ultimate player who's been playing for nearly 20 years. 
There's a good reason everyone in Ultimate knows Jenny Fey's name. She's made Club Nationals 13 times and won once with Scandal. She represented the U.S. on the U20 Girls Team in 2004 (silver in Finland), the US Mixed Beach Team in 2015 (bronze in Dubai), and the US Women's Team in 2016 (gold in London). She's played for seven club teams, mostly in the DC area, including DC Scandal (2009-2013 and 2015-2017) and DC Space Heater. Here at Savage, we've been lucky to know her since her college days at
 the University of Mary Washington. When she's not on the field, Jenny teaches high school literature, linguistics, and psychology in Arlington, where she lives with her partner and toddler. Take it away, Jenny.
Savage: How did you get into playing ultimate? What drew you to the sport? 
Jenny Fey: I was first exposed to a chaotic but epic version of ultimate at sleep away camp in middle school, but my structured ultimate experience really started in 10th grade. A group of students from a couple of Arlington high schools had been playing pick-up together for a few years, but had just recently started playing formal games as part of the local league (WAFC), where a certain gender ratio was required. This one mixed gender team planted the seeds for what is now a huge and highly successful Arlington youth program that spans many schools (YULA). Anyway, a few of my friends had already started playing and they recruited me as a sub one weekend; I had an incredible time and never looked back.
The sport is really ideal for me as an athlete... I always loved sprinting but was never a fan of long distance. I had a natural throwing ability and good hand-eye coordination, but was not so good with my feet, so I didn't excel at soccer. Everyone loves a disc in flight, but I was also really attracted to the cooperation elements of ultimate, the playing to a score component which demands strong play throughout a match, and the sense of community and camaraderie I felt with the folks I was playing with and against. I have loved giving back as a coach over the years as a chance to share my appreciation of the game with others.
Savage: Is there anything unique about being a woman in the world of ultimate? How do you think being female in this sport compares to other sports?

JF: Being a woman in sports offers definitive challenges and ultimate is not exempt from those. There hasn't been a ton of financial or conceptual investment in women's sports historically. Title IX is not even 50 years old yet. Any criticisms of women's sports are meaningless to me until we've committed heaps of time and money into telling women and non-binary folks that they are athletes.
On the other hand, a lot of people in ultimate have spent time thinking and talking about gender in recent years and I think we are on a relatively good trajectory there. It's an important issue and one that we need to keep talking loudly about, but currently my thoughts have been with race and class in ultimate, with widening the sense of inclusivity in the sport, and helping more and different people see themselves as potential players of the game.
The barriers for entry to playing ultimate are fairly low, but the barriers to playing ultimate in a
high-level
 way are pretty high in that most forms of elite play require lots of travel and personal financial investment — something I hope can change going forward.
Savage: Thoughts on bringing more women into ultimate? What are your hopes for the future of the sport? 
JF:
I absolutely
want more women playing the sport, and I think ultimate communities demonstrating a commitment to equity is key there, but I think the most important investment
all
adult players can be making is in the youth scenes around them. I want to see more kids picking up the sport at younger ages, especially girls and players of color, and sticking with it. That's the growth I care about most.
I think it'll take a lot of individuals making their way into schools, camps, and after school programs, sharing their love of the game, offering sustained coaching support, and helping to promote the sport with institutions who may not think much of it or have any sense of it at all.
Eyes on the game are awesome, but I am more psyched about
future
eyes on the
next
generation of players. If tons of kids fall in love with the sport, it's hard to imagine
not
 finding a way to get it showcased on bigger and bigger stages. 
Savage: Who are some of your favorite female players in ultimate?
JF: My heroes in women's ultimate transcend the on-field game, though the GOAT is my estimation is Miranda Roth who beyond inspired me when I was a younger player with her athleticism and head for the game.
I have massive respect for a ton of women working in the sport, on and off the field, and in many cases doing both, and I won't be able to name them all, but some that come to mind include Dom Fontenette, Tiina Booth, Michelle Ng, the folks at the
PUL
including Maddy Frey and Angela Lin, Leila Tunnell, Ren Caldwell, and Erica Baken. My favorite all-around current players to watch right now are probably Lien Hoffman, Elizabeth Mosquera, and Carolyn Finney.