7 Questions with the University of Arizona's Sunburn Ultimate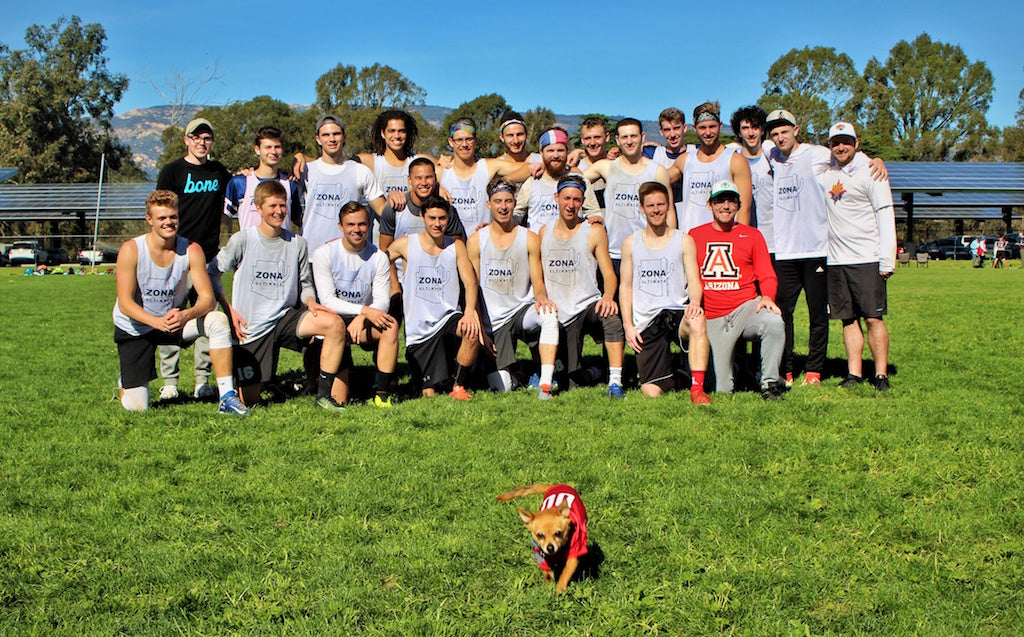 Sunburn is the University of Arizona's men's ultimate team, and Savage is proud to be supplying them with ultimate jerseys, shorts, and more for their season. Check out Sunburn's Team Marketplace here, and their Q&A below.
Savage: Does your team have a hype song?
Sunburn Ultimate: Absolutely. Our anthem is "Praying" by Ke$ha. "Lost Boy" by Ruth B. is a close second.
Savage: What does your team do to celebrate a win?
SU: We do team shout-outs. Sit in a circle, pretend to stretch, and nominate people for top plays.
Savage: Who are some of your team's MVPs?
SU: Chris Baker's parents. They've been bringing snacks and chocolate milk to every tournament for years. We all would have probably quit if not for the dried fruit. After the Bakers, we're all equals. That's how we operate. The vets step up and lead by example. The rooks work hard and learn quick. We have a lot of different guys on the team; there's no room for ego.
Savage: What makes your team unique?
SU: We're probably not unique at all. Ultimate is a great sport, we happen to love it.
Savage: Favorite place to play?
SU: Sitton Field. It's the best field at UA [the University of Arizona]. If all of our tournaments were there, we would definitely win Nationals.
Savage: What's a team highlight from this past year?
SU: Santa Barbara Invite, Day 1. Frustrating losses to Washington and Cal. We're eliminated from bracket play. Last game of the day, about to play USC. Pilot tells the team not to worry, let's have fun, and we're going to win on universe point with a lefty scoober. First half, we go up a couple breaks. Second half, USC comes back. Universe point, we pull. Pilot gets a layout D on a handler reset. We have the disc ten yards from the end zone. Pilot taps it in, looks open side, looks break side, looks reset. Nothing is open. Stall eight, Pilot makes momentary eye contact with Jaron and throws a lefty scoober to the break side. Jaron slides to catch it and Sunburn pulled off the biggest upset of the season. True story, no hyperbole, absolutely crazy.
Savage: What does your team name mean?
SU: Well the S stands for special, the U stands for underrated, the N stands for... No it's not that complex. We live in Arizona. So we get a lot of sunburn.