Jersey Giveaway: Choose Your 2020 Olympic Ultimate Dream Team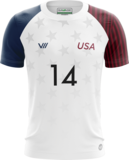 Like everyone else around the world, we're glued to our TVs watching Americans shatter world records at the 2016 Olympic Games in Rio. And as fun as it is, we can't help but wish we were watching Ultimate's debut at the games. With the news late last year that Ultimate was accepted by the IOC as an Olympic sport, there's hope that one day we'll be able to see the U.S. compete among the world's elite at the Olympics. In honor of that dream, we've created an Ultimate Team America Olympics jersey—and we're giving them away to the players you think should make the team. 
For the next three days, you can vote for your Ultimate Olympics fantasy team on Twitter. The five players with the most votes—two men, two women, and one runner-up—will get a free customized jersey from SAVAGE. In addition, we'll choose two random voters who will receive their own custom jerseys. Be sure to use the hashtag #UltimateOlympics when voting.
How to enter:
1. Tweet your picks for the Ultimate Olympics Dream Team
2. Use #ULTIMATEOLYMPICS & tag @savageultimate
3. Two voters and five players will receive a custom USA jersey
Winners will be chosen on Wednesday at 12 p.m. EST.   
Stay tuned to @SAVAGEultimate on Twitter where you can weigh in and be a part of our Olympics jersey giveaway. Don't forget to check out the shop to purchase your custom USA jersey today!