Road to Nationals: 4 Questions with Stanford Bloodthirsty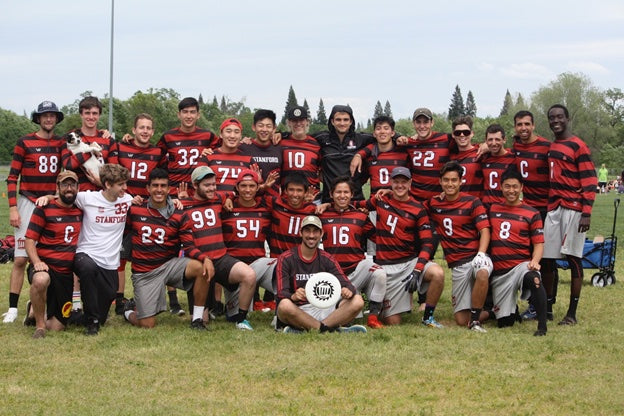 The last few weeks, we've been interviewing some Savage teams that were headed to D-III College Championships in Illinois. Now, we're moving on to the D-I teams, starting with Stanford's Bloodthirsty. Thanks to Jack August Kimmel for answering these questions for us.
Savage: Any pre-game rituals?
JAK: Stanford Bloodthirsty is a team full of goofy, fun savages, and we use these traits to our advantage when facing off against opponents. Before each game, we focus on bringing the hype and energy from the very first point to the very last point of the game, and this starts with our warmup. In our warmup jog, our team does a chant that we learned from a former player who grew up in Mali, and although nobody knows exactly what it means, it certainly gets our team focused and energized. Right before the game, we end our warmup by huddling tightly and unleashing the hype through a chant or cheer.
Savage: How do you celebrate a win? Mourn a loss? 
JAK: Our team thrives on the energy and swagger that comes from our intense defense and systematic offense on the field, but our sideline also plays a large role in maintaining high energy levels throughout the game. To keep this enthusiasm stable, we cheer after every point, win or lose, knowing that we need to immediately focus on the next point. Ultimate tournaments are often structured such that games are played consecutively, meaning we need to not only be able to carry our energy from point to point, but also from game to game. That's why, win or lose, we are sure to always maintain focus on the next game, and engaging in ridiculous cheers and playing music helps remind us who Bloodthirsty is: a team full of goofy, fun savages.
Ironically, one aspect of our team's cheers that set us apart from other teams is our unashamed willingness to steal cheers from other teams. We aren't Ducks, Hodags, or Airsquid, but if a cheer sounds catchy or cool, we have no problem using it. But when we aren't copying cheers, we're usually yelling about Crab People, Shrek, Solar Shields, or the number 4.
Savage: Who are your MVPs?
JAK: The three captains that have led our team throughout this season are the MVPs of our team. Gabe Hernandez, Allan Ndovu, and Drew Mathieson have inspired and motivated us to play for each other and have fun no matter the outcome of a point or game. Our team will surely miss these three seniors next year, and they have created a team culture and demanded a level of play that has brought us back to nationals for our second straight year. 
Considering that swagger is such an important element of our team culture and identity, we would be remiss not to mention the role our Savage Ultimate apparel and uniform play in maintaining our team's swag.  Look good, feel good, play good. It's that simple. When our team is repping the joggers and the quarter-zips in warmups, the parents are wearing the team T-shirts, and by game time we all have on those Savage jerseys, we know we are absolutely stunting on our opponents. Pair these with our signature sunglasses, the Solar Shields, and add in a chant about the number 4, and there is no stopping us. We can't thank Savage Ultimate enough for keeping our swagger at maximum levels and ensuring that we not only play well, but we also look good while doing it.