Savage's Ultimate Guide to the Best (and Cheapest!) North Myrtle Beach Restaurants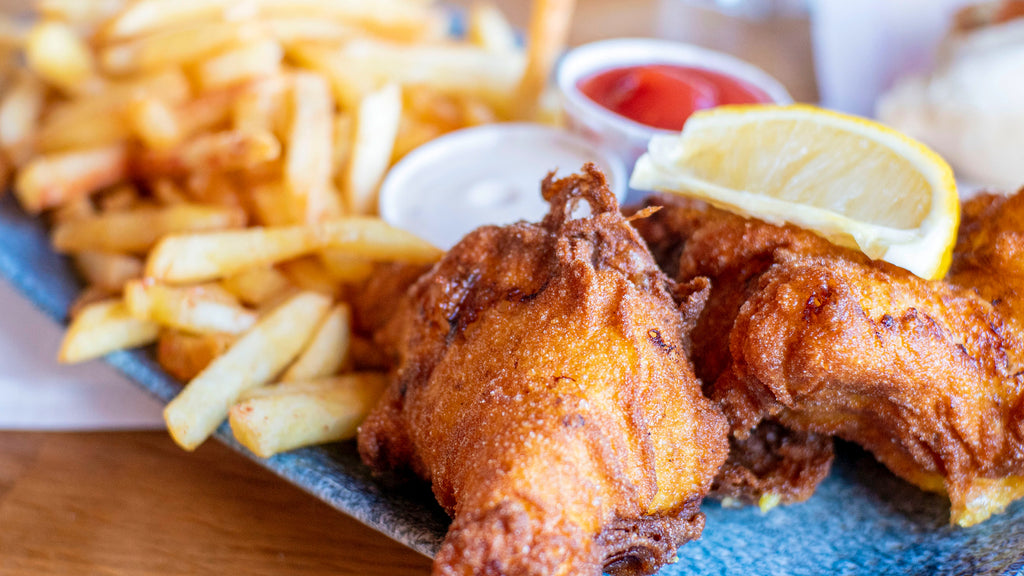 For the past five years, college Ultimate teams have descended upon North Myrtle Beach, S.C. for a week of Spring Break hangs, parties, and games. Of course, High Tide is all about the Ultimate, but there's also a whole lot to see, eat, and do off the fields, too. 
North Myrtle Beach is a cute, kitschy beach town with plenty of unique local flavor, and the Savage crew has attended every year that High Tide has been hosted in NMB, carefully honing our list of must-dos in town. Here are some of our tried and true NMB favorites you should absolutely check out while at High Tide. 
Southern Sunrise Pancake House
Photo: Lauren DeLuca for Savage
NMB is practically exploding with pancake houses. We're not sure where they all came from or why this area seems to have such an unprecedented passion for round breakfast foods, but we sure do appreciate it. You could easily spend the entire week eating your way through the Grand Strand's 40-plus pancake options, but just in case you don't want to have such an extremely pancakey High Tide, you could skip the taste test and go straight for our fave: Southern Sunrise Pancake House. We've tried many of NMB's pancake offerings over the years, but we always come back to Southern Sunrise. Their pancakes are the way pancakes ought to be: light, fluffy, golden-brown discs of heaven, brimming with tasty toppings of your choosing. If you're not in a pancake mood (wait, is this actually a thing that happens?) their menu is full of delicious non-pancake options including a variety of creative benedicts, omelettes, and biscuits. 3407 Hwy. 17 S., (843) 361-4080
Nacho Hippo 
Photo courtesy of Nacho Hippo
After a long day at the fields, we often want to kick back and have some fun — and Nacho Hippo is the perfect spot to do that. The creative nachos and tacos are usually what draw us in, and then the all-day $3 margs are what keep us there chatting, sipping and munching away. In addition to margaritas, they also have 32-ounce bucket-sized tropical cocktails for $15 that are perfect for sharing. While the drinks are cheap and delicious, the food really is the star here. Nacho Hippo isn't your traditional Mexican cuisine; the menu is all about the über-creative Tex-Mex fusion, blissfully marrying dishes like tacos, nachos, and quesadillas with Chinese, Japanese, Caribbean, and Southern influences. Order a platter of the signature Hipponachomus — crispy house-made chips topped with chili, taco beef, shredded chicken, queso, lettuce, cheese, and pico — to share with your squad and then take your pick of their unique taco options. We recommend the Bangin' Shrimp, Ka-Ka-Ka-Kia, and Kahuna. 850 N. Beach Blvd., (843) 663-9393
Duffy Street Seafood Shack 
Photo courtesy of Duffy St Seafood Shack
If you spend a week on the beach and don't eat some local seafood, you're doing it wrong. We firmly believe the best seafood comes from divey beachside shacks, and Duffy Street is a perfect example of this. No need to shower or dress up; this place welcomes the sandy, the sweaty, and the sunburnt with open arms and fluffy hushpuppies. Head to Happy Hour from 4-6 p.m. and leave happy and stuffed full of 75 cent oysters and clams, 45 cent shrimp, $7.99/half-pound crab legs, and of course a signature rum punch fishbowl to wash it all down. Happy Hour or not, the Duffy Street menu is full of tasty made-to-order seafood options. Their Pig Skin Shrimp, Crab Cakes, Duffy Street Steam Pot, and Volcano Chocolate Cake are all solid choices. For the indecisive or exceptionally hungry, they also offer combo platters or the mega Pirate's Plate — a massive offering of broiled fish, Old Bay shrimp, Alaskan snow crab, and broiled scallops. 319 Sea Mountain Hwy., (843) 249-7902 
The Shack 
Photo courtesy of The Shack
It's pretty rare to find a solid restaurant that serves a truly outstanding breakfast and lunch and dinner. The Shack is one of those rare gems, slinging top-notch Southern food from morning 'til night. Go early for huge fluffy slices of Texas-style French Toast, homemade biscuits smothered in sausage gravy, or, for the truly famished, try the Shack Attack — a platter piled high with eggs, bacon, sausage, pancakes, and home fries. The Shack's breakfast options are sure to provide plenty of fuel for a grueling day on the fields, and their dinners are the perfect way to satiate that end-of-day Ultimate hunger. Refuel with their huge portions (at great prices) of Fried Catfish, Beach House Burgers, Fried Chicken, and Shrimp 'n' Grits that rival any Southern grandma's. Their "meat-and-three" specials are also a big favorite — pick one meat and any three of their plentiful side options for under 10 bucks. 1128 Sea Mountain Hwy., 843-663-3636 
Hoskins Restaurant 
Photo courtesy of Hoskins Restaurant
Cherry Grove has been a popular tourist destination since the '50s, and Hoskins Restaurant has been there feeding those hungry beachgoers since the very beginning. One of the very first restaurants in the Grand Strand, Hoskins first opened its doors in 1948 and quickly became a NMB icon and institution. This family-owned and operated joint is chock full of classic Americana vibes, old-school charm, and the best fried chicken in the area. Their menu is loaded with killer Southern options including ridiculously fresh fried-to-order seafood, smoked chopped barbecue, and pork chops, and you really can't go wrong with anything on their menu, but once you try their famous fried chicken, you'll probably have a hard time even considering eating anything other than that hot juicy Hoskins fried chicken ever again. 405 Main St, (843) 249-2014
Krave Bagel Bistro 
Photo courtesy of Krave Bagel Bistro
If you need to grab a quick bite on the way to the fields, Krave has you covered. Their convenient location on Hwy. 17 combined with their drive-up window makes this the perfect grab-and-go High Tide breakfast option. They tout "the only true Northern-style bagel in the area," and Savage's NYC-born-and-bred staffers give them their enthusiastic stamp of approval. Krave's bagels are made fresh daily and come in all the classic varieties as well as a few unique ones like Marble Rye and French Toast. Get one toasted and topped with the schmear of your choosing or go for a baconeggandcheese breakfast sammy. (Important note for my Tristate friends: They. Have. Taylor. Ham.) 1434 Hwy. 17 S., (843) 427-7310
Sweet Molly's Creamery
Photo courtesy of Sweet Molly's Creamery
We've covered a lot of breakfast, lunch, and dinner options, but, of course, we couldn't neglect the most important meal of the day — dessert! No trip to the beach is complete without a nice frosty cone, and Sweet Molly's in Barefoot Landing is definitely the place to satisfy your sweet tooth. Their MO is similar to another popular ice cream chain: pick a flavor and get your choice of syrups and toppings mixed directly in, creating a custom frozen treat. Choose from any of their 20 daily flavor options, which range from classics like chocolate and mint to the more inventive like piña colada, salted caramel, watermelon taffy, and pumpkin spice. They make all their ice cream, frozen yogurt, and sorbet in-house daily and with so many options to choose from, we totally wouldn't judge you for making multiple trips to work your way through as many combos of scoops, toppings, syrups, shakes, and sundaes as possible while in town. 4728-F Hwy. 17 S., (843) 663-4373
Old South BBQ Co.
Photo by Patricia F/Yelp
There's just no way we could let you spend a week in one of the South's best beach towns without having some traditional Southern barbecue. As you drive up to Old South BBQ, you can't miss the giant sign outside boasting "BEST BUTTS ON THE BEACH," and they sure ain't lying. Eating is believing, though, and their barbecue-chopped pork sandwich is an absolute must. Round it off with some smoked chicken wings, spicy BBQ beans, hushpuppies, and a half-and-half sweet tea. Eat at one of the picnic tables outside or grab one of their family packs to-go on your way back to the house. 1020 Sea Mountain Hwy., (843) 663-1056
Main Photo by Andy Wang for Unsplash