Disc Golfer Lisa Fajkus Joins the 2019 Savage Squad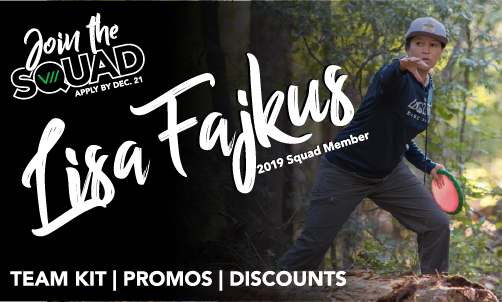 Lisa Fajkus is the latest disc golfer to join the 2019 Savage Squad. Lisa's disc golf career started in 2005 but ramped up in the pro circuit three years ago. In that time, Lisa has brought home 55 career wins and it doesn't look like she's stopping anytime soon (29 top 10 finishes in 2018!). 
"I'm so stoked to be joining the 2019 Savage Squad," Lisa says. "2019 has never looked so good. The Savage Squad will be looking so fly all year on the course." 
Lisa loves offering time to the community when she's on tour, always volunteering to help at clinics and taking time to teach new players. As one of the founders of Women Throwing Frisbees in her hometown of Round Rock, TX, Lisa is always looking to grow the sport. 
"Lisa was one of our top prospects for the 2019 Savage Squad and I'm so happy she signed on," says Savage founder Todd Curran. "I know I'll be sporting some Fajkus gear this season!"
Keep an eye out for the Lisa Fajkus Signature line coming this spring. 
If you're interested in joining the Squad, be sure to apply by December 21, 2018.